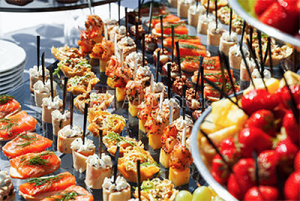 From romantic weddings and fun corporate picnics to dazzling holiday parties and fundraising dinners, we do it all. You can book our restaurant for your private party of up to 75 people, or we can come to you and cater your special event.
We don't believe in asking our customers to choose from predetermined menu options. Instead, our chef and catering manager will meet with you to create and taste the custom menu of your dreams. We can recreate grandma's homemade mac and cheese or come up with a stellar dish featuring your favorite ingredients. Our goal is make your event as unique and memorable as possible–and within your budget.
Whether it's a private event at our Ghent location or a large celebration off site, we provide professional staffing and personal attention to your guests. We can also provide you with local vendor recommendations all your event needs, from linens to tables and chairs.
Weddings • Special Occasions • Corporate • Full ABC
757.963.1200 • Email