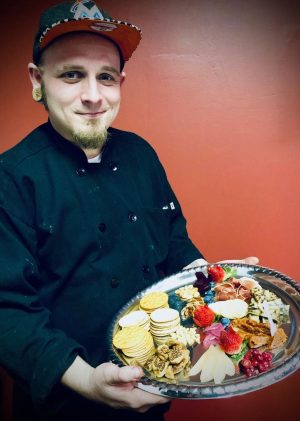 By Patrick Evans-Hylton
The Green Onion, a long-time bistro in Norfolk's Ghent, has a new tall toque in the kitchen.
Nicholas Charles Weaver joined the restaurant as executive chef in December. Weaver was born in New York, but raised in Chesapeake.
"I consider myself a Chesapeake native," Weaver says. "I think the coastal region of Virginia is great because you are never further than 20 minutes away from the beach."
The chef has cooked at numerous restaurants in the region, and across the state, including being executive chef at Fabbrizi's in Chesapeake.
"I've managed kitchens between Radford, Blacksburg, the Outer Banks, Chesapeake as well as Norfolk, says Weaver. He picked up his fine-dining style of cooking under Chef Derrick Beverly at Chatmoss Country Club in Martinsville.
Weaver calls The Green Onion a casual fine-dining spot, offering an assortment of dishes, including charcuterie platters, fine wines, and other tasty trappings, but with a relaxed lounge – and in warm weather patio.
Of the dishes, the chef noted the Lobster Cheese Cake with Balsamic Glaze as one of the restaurant's signature dishes. I've had a rendition of this, also on the menu, that I absolutely loved: pirogues filled with the savory/sweet creation.
"Also the New England-style lobster rolls; all are made in house with care, fresh daily," he says, adding Tomato Bisque with fried bread cheese on the side to the list.
Among his favorite plates on the bill of fare: "I'm a big fan of The Pork, a fig and serrano ham stuffed center-cut pork chop with housemade spaetzle, purple braised cabbage, and brown gravy. The colors and texture of the dish just pop."
Weaver also opens up about his love of charcuterie, selections of prepared meats like hams, terrines, pate', and the like, as well as their accoutrements. A good offering of cheese also goes hand-in-hand quiet nicely with a well crafted charcuterie board.
"I love the format charcuterie is presented in. I like that it is shareable, and great to eat while conversing," Weaver says. "It tempers well, releasing oils and fats as it comes up to room temperature. becoming more enjoyable as it goes."
Fine aged, cured meats like prosciutto, and serrano hams are his favorites.
"It's one of the oldest forms of dining; they say the Roman legions were able to conquer most of Europe on a diet of cured meats and hard tack," he said.
Weaver also offers three tidbits of advice for the home cook:
• To kick up your kitchen repertoire, "Practice, practice, practice. No one cooks great food right out of the gate; there's a learning curve."
• Chop like a chef: "I always use and 8- or 10-inch chef knives. They are much more comfortable than larger knives and you'll be less likely to cut a finger off."
• A must-have item in the kitchen is, "A good stand mixer; it makes baking a breeze. I highly recommend KitchenAid."
The Green Onion is at 1603 Colley Ave., Norfolk. Call 757-963-1200 or visit www.GreenOnionGhent.com